To explain what keywords are, they are simply the words in which you type into a search engine – if you use keywords on your website this makes your business more visible and is one of the most effective forms of marketing. So when starting up a website or business site, you should always start by determining the perfect keywords for your website.
Do You Need Keyword Research For Your Site?
Yes, if you want to drive in the most amount of traffic compared to your competitors then you need to have some form of SEO plan, ranking for the correct keywords can either make or break your website. But by doing extensive research you will quickly learn the correct phrases and terms that you should use in your SEO plan, you are then about to learn a great deal more about your audience demographics.
You don't necessarily want lots of traffic on your website; you want the correct users that are going to convert and use your services. Otherwise, if you are paying for something such as a pay per click campaign you are going to be wasting a lot of money on people who have no intention of using your services. So if you want to find out how you can find the perfect keywords for your site then keep reading!
Make A List Of Your Products Or Services
Begin by making a large list of all the services and products you supply, for example, if you are an upcoming retail company then some of the things on this list may be the following;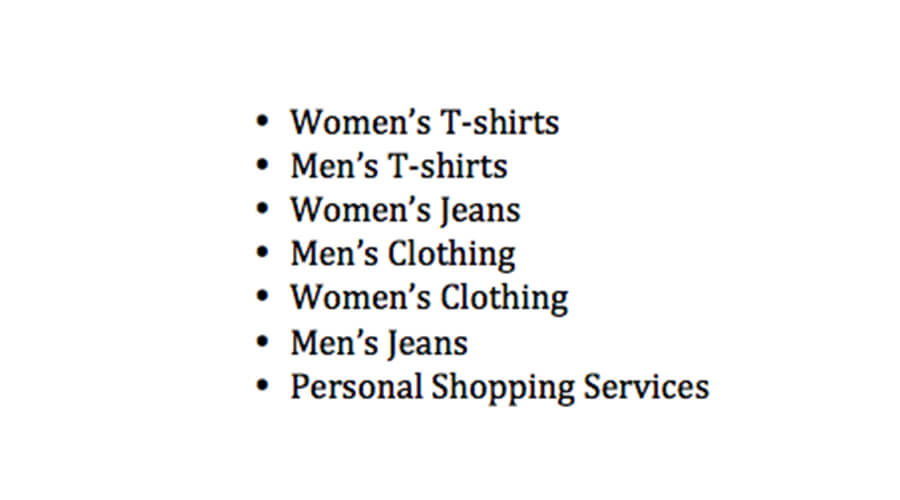 Identify Your Target Audience
Before you start researching any keywords or phrases you need to identify your target audience and who is going to receive the most benefits from your services or products.
For example, if you are a toy company it's obvious that the audience you are going to be targetting is not only young children but also parents. Of course, you want to interest children in your toys, but on the internet, it is about being found by the correct users, parents will be ordering toys for their children online – children won't be.
So by establishing this, you are able to come up with phrases that relate to parents and children so that you can make yourself visible to both – this can work well at times of the year such as Christmas when people are looking for gifts for their children and grandchildren etc.
Judging The Value Of A Keyword
Use a tool such as Google Analytics to analyse the amount of converting traffic you receive from your website users, if you own a restaurant do you receive more return from "birthday meal" or "burger restaurant". By using keyword research tools and Google Analytics, we can have a look at the number of times a month your keyword is searched, the competition this keyword has which basically means how many competitors, and other websites are using this effectively. And then you have the suggested bid which tells you how much you would pay for a click using this keyword.
We've given you an example below so take a look;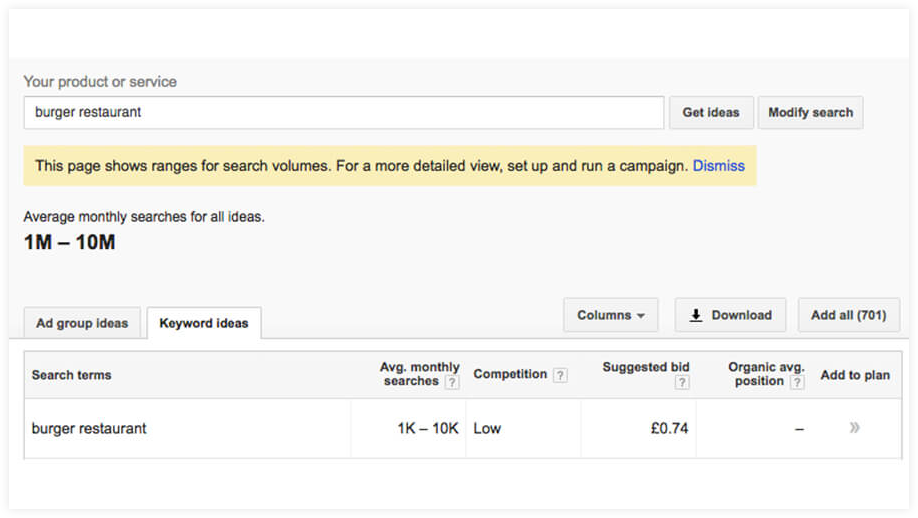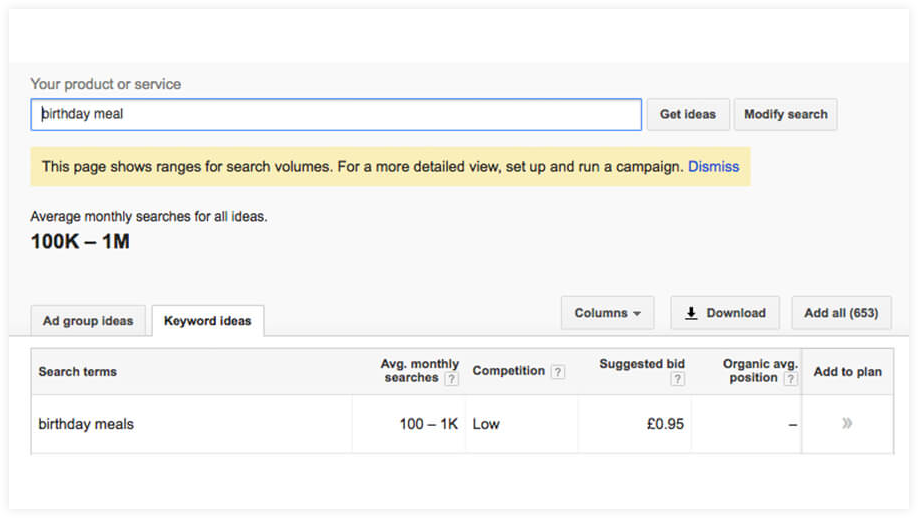 Take Your Business Services Into Consideration
Although these keywords have high search volume, are they related to the products or service that you are trying to promote? And mainly, do they provide a proper use or help for people visiting your website? And finally, will this keyword result in people contacting you or purchasing your products from these keywords? If the answer is yes to these questions, then the likelihood is that you have found a potential keyword.
Search These Keywords Or Phrases In Search Engines
By doing this, you want to identify your competitors, and you are able to see what they are doing on their site, what can you do and what can your website have that looks better than theirs? Have a look at the competition, and you can establish how hard it is going to be to rank for a particular keyword.
Compare Your Keywords
Now that you've made a list of keywords and have a rough idea of the search volume and what your competitors are using it's time to put them to the test to see what works best for your site. This could take time, so you need to have patience and persistent as that's how SEO Milton Keynes work, with time and consistency.
Once you've added in your website's keywords you should do a monthly audit to see how your site and keywords are doing; you can use free online tools such as Varvy to audit your website and Rank Tracker to view your websites rankings and keyword statistics.
Also Research Related Search Terms
So you now have your main keywords set in stone, you are definitely going to use them – but have you taken into account abbreviations and related search terms?
Here's an example, you are looking for images of a puppy to use on something. Internet users are often enticed to spend more time on the web by clicking on related searches. So you type in "puppy photos" you find the images you want, but then at the bottom of the screen there are related searches such as "cute puppies for sale" or "cute puppy breeds". You might want to take these related search terms into account, maybe not for now but they can always be helpful in the future when you are writing blog posts or want to attract people looking to buy a puppy.
Summary
So, over the past few years, SEO has become more and more popular as everything is starting to become based on the internet, paper is slowly being irradicated, and things such as exams are now being computerised. A lot of large renown companies have blamed their sudden success due to SEO and social media marketing, online campaigns really do make a difference, especially in this day and age when technology and the internet are forever growing!
We hope that this article was helpful, if it was then share this article on to someone looking to grow their business!